Good morning, everyone. I hope you're enjoying your holiday weekend.
Some...AT THE BEEEEEEEEEACH!!!!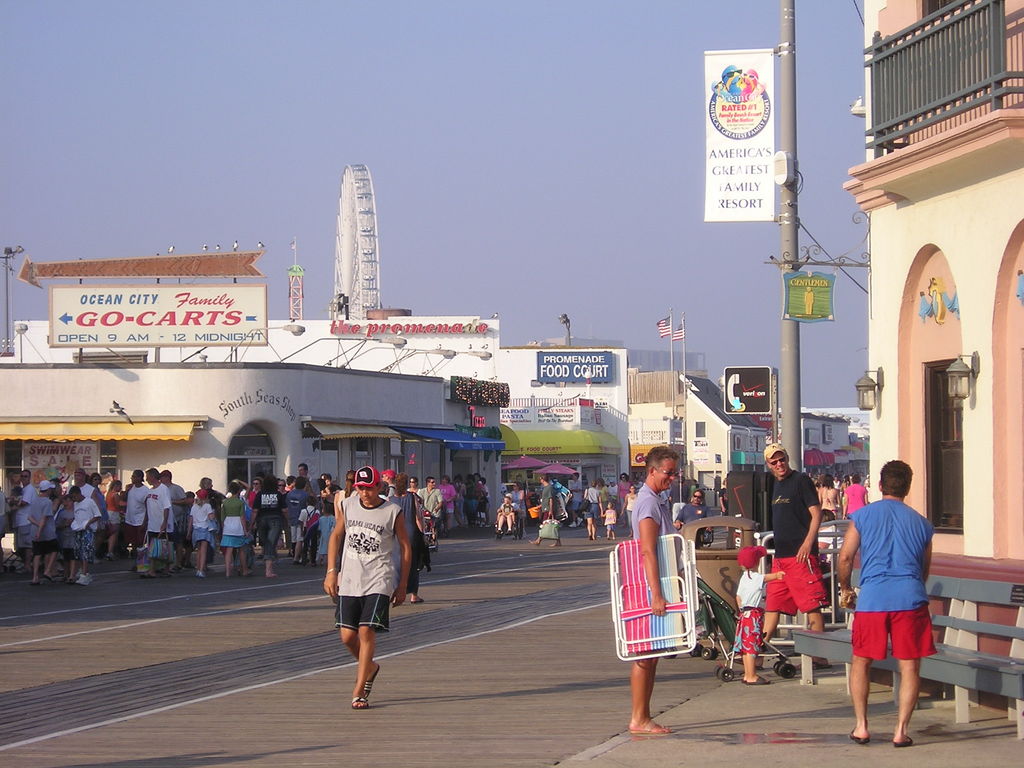 Ah, Ocean City, New Jersey...where I will eventually get my Mack & Manco pizza, Kohr Bros. ice cream, salt water taffy, and FUDGE. See you in August, wonderful boardwalk...
Meanwhile, in another part of town...
Two major sports leagues are entering their championship matches, and there have been some intense matchups and some complete blowouts. What I find interesting is that each league is alternating their play around each other, so Game 1 of the NBA Finals starts on Tuesday, and Game 1 of the Stanley Cup Finals is the night after, and so on, and so forth. Pretty awesome. There will be something
good
and worth watching on TV every night. I'm sorry, I don't really watch much television other than sports, Jeopardy, Wheel of Fortune, and The Big Bang Theory.
But enough about me...let's talk about our upcoming duels in the NHL and NBA this week.
________________________________
NBA FINALS
Miami Heat vs. Dallas Mavericks
2006 REMATCH
In one corner, you've had the all-season statistic favorites led by Bosh, Wade, and LeBron, and in the other corner you have the team led by Dirk Nowitzki and Jason Kidd that's looking for their first title in franchise history owned by the madness that is Mark Cuban.
During the playoff run the Heat had, they made quick work of the 76ers and last year's runner-up Celtics. However, the Bulls were believed to give the Heat a run for their money, but the Heat had begun to show how clutch they could truly be. The Heat could definitely be seen as a threat and an answer to the ratings issues that the NBA Finals may have had in the past.
The Mavericks had a bulldozer-like run like the Heat. They not only gave the TrailBlazers and Thunder a shocking problem, but they even made Phil Jackson and the LA Lakers look like fools. With Nowitzki's brilliance and the team chemistry that has been proven unbreakable throughout this postseason, they're going to definitely deliver problems and make a good run.
Players to Watch:
Dallas: Jason Terry, Dirk Nowitzki, Jason Kidd
Miami: Chris Bosh, Dwayne Wade, LeBron James
Prediction: Miami in 7
Dallas is filled with skills and precision. However, Miami will definitely turn up the heat (no pun intended) and come in the clutch when absolutely necessary. That doesn't mean it'll be a clean sweep. It's going to be one heck of a series. If Miami doesn't get frustrated, they could gain control of the series very early on.
_____________________________
NHL STANLEY CUP FINALS
Vancouver Canucks vs. Boston Bruins
Champions: 20 Years in the Making
Vancouver, who has yet to win a Stanley Cup, has already made a good show by winning the President's Trophy and shown a strong resilience to letting a game slip by them. Boston, on the other hand, has a long legacy of being a threat in the NHL, but have yet to win a Stanley Cup since the 1971-72 season. In their only season meeting, Boston defeated Vancouver 3-1. Will the case be the same this time?
The Canucks have made a very strong showing all season. However, the Canucks have let sweet victory slip through their fingers many times this postseason, especially in games against the Blackhawks. It's been shown that Luongo isn't exactly a miracle drug despite the fact that only God saves more than him. If the Canucks want to win the Cup, they need to give their 100% in each and every game. No half efforts. It's happened way too many times already to count.
Boston had their brief ups and downs, but definitely came down in the clutch when needed. Based on the series already played, it seems like any player on the team is bound to be dangerous at any time during any game. Although it looked like that their clean sweeps and lack of problems in the playoffs make them look good on paper, their path here was not easy. Tim "The Tank" Thomas was an absolute monster in net, keeping damage control to a tolerable limit. Heck, I think he made a lot of game-saving dives and what have you as well. The whole team is well-rounded, and they could beat you on all ends if you let them sneak by you.
[Hey, maybe if they win, Mark Recchi the dinosaur will finally retire as a happy camper. Okay, that wasn't nice to say. He's still the man at the ripe age of 43.]
Players to Watch:
Vancouver: Daniel Sedin, Henrik Sedin, Ryan Kesler, Roberto Luongo
Boston: Tim Thomas, David Krejci, Nathan Horton, Patrice Bergeron, Zdeno Chara
Prediction: Boston in 6
The main thing that will keep the Bruins keeping up will be Tim Thomas in net and Zdeno Chara playing massive defense in the back. However, Roberto Luongo won't let lollipops of goals in as much as Antii Niemi (and basically every Flyers goaltender that played) did. Where Boston's defense excels, Vancouver's is highly lacking. If Vancouver wants to survive, they need to stick together as a unit and make sure that the walls are bolstered. This should be quite the show if every teammate decides to show up each game.
___________________________________
And that, my friends, is my Slant on Sunday.
Oh wait, I mentioned breakfast in the title....
Have fun with it. Enjoy the rest of your weekend.
--AZ