For those outside of the sports realm, you may not be very familiar with the one they call "Johnny Football." Don't worry, his first name really isn't
Football
, you silly person, it's Manziel. He's this boy born and raised in Texas, and he loved to play football in the house with his dad. While he played many more sports as a youth, he was noticed more for his talent in football. Many practices and games later, here we are...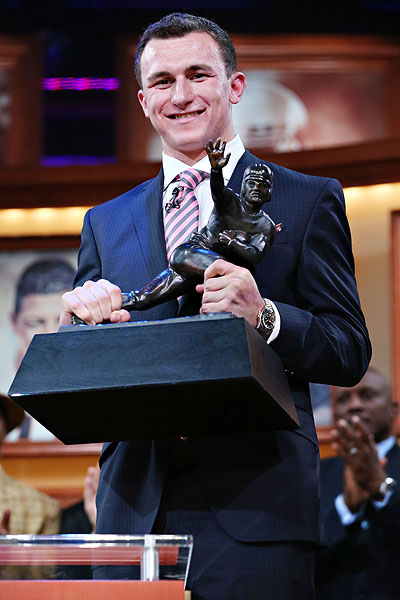 Photo from: ESPN
Aww. Don't you just want to pinch his cheeks?
Last month, Manziel was awarded the Heisman Trophy, which is technically the MVP award in NCAA Football. This award made him the first man to ever receive the Trophy as a freshman. I have a serious feeling that when this happened, most college upperclassmen around the country questioned what they were doing with their lives. No really, you had this guy who was 19 at the time being one of the best quarterbacks Texas A&M had ever seen. When I was 19 I was uhh...roughing out my Public Relations courses and attempting to make it big in my school's drama club just creating this blog and waiting for magic to happen. This boy had accomplished such a feat so quickly that aptly named "Johnny Heisman" was becoming quite the household name in college football cultures across the country. I think, regardless of how modest one is, could be slightly overwhelmed by all of the sudden accolades.
Oh, we're not done with the showcase yet. On Friday, he and the Aggies crushed the Oklahoma Sooners 41-13 in the Cotton Bowl. This guy is a big deal. Almost seen as a prodigy by many sports critics, things could only get shinier in this guy's future.
Of course, with all of this going on, there is trouble in paradise. There are many naysayers that are practically going out of their way to debunk the incredible season that Manziel has had. The one statement I have seen floating around the Internet is, well...
I'll be blunt on this:
He'll be a total bust in the NFL.
What they were getting around to saying was that there's a possibility that he would be the next Vinny Testaverde.
[Yeah I went there.]
Firstly, the kid is the ripe old age of 20. Manziel has plenty of room to grow into the art and become an even more fierce quarterback. Think about it: Tim Tebow wasn't a college senior when he won the Heisman Trophy, and he still grew into one of the most underrated (and underused) quarterbacks in the NFL. Of course, everyone progresses at different levels, but a lot of stuff could change in a positive way for Johnny. There are also quarterbacks out there like Peyton Manning and Brett Favre that didn't have the best of rookie seasons and ended up laying out Hall-of-Fame statistics after that. Let's not throw rocks at people so quickly.


Secondly, who in their right mind plays the fortune teller? Especially in football? Sure, the NFL is a completely different monster than the NCAA world, but you also have to consider the mentality of a football player in transitioning from college to "the real world." There's also the benefit of having other players around you that support your talent level and may actually make you look better than you may seem. Football isn't always a one-man effort. If you have half of a brain you should see it and know about how that works week in and week out.

In other news, I'm completely shocked that nobody has taken his social faux pas from a few months ago that involved him being arrested and charged with several misdemeanors including disorderly conduct. While it's all straightened out now, he has a tainted record and people are going to be nitpicky and says crude things about him just as some extra ammo. I just think it's a human being a human and it'll be unfortunate if critics hold this speed bump against him.
___________________________________

Basically, people are calling his status in the NFL way too flippin' early at this point. Even if there's that magical chance that he gets drafted in a few months (that is, if he enters), there's a chance that he'll turn it down, finish off at A&M, and re-enter the draft a la Bo Jackson. Bless him if he gets drafted, but at this point in the NFL, there are plenty of quarterbacks that are healthy and still kicking in good shape so there's the chance that he may not even make it as a second-string quarterback. Let him flourish at the NCAA level and see if there are any possible openings for this kid as a first-rounder. He's too fun to watch to see him sit on the bench and have everyone call him overrated for not making at difference on an NFL team.


--AZ