For athletes all around the world, being in the Olympics is kind of a big deal. Winning any kind of medal could deem you a national hero. First time medalists like Grenada's Kirani James will forever be recognized in the history of the country as the first countryman to win a medal (a gold medal at that) for the country. Other perks come along with winning a medal too. For example, Kenyans make their medalists official "lion hunters" of their tribe, which I think is pretty awesome, considering that their culture still stands today amid the crazy advances in technology and culture. Also, in South Korea, the bronze medal soccer team is exempt from mandatory military service for a whole year (story here). Being an Olympic athlete can also be a gateway to something more personal if the athlete is successful. Australian diver and 2008 Olympic gold medalist Matthew Mitcham came out as being openly gay and inspired gay people and athletes worldwide.
Stuff like endorsements in larger-scale countries may be cool too, but hearing the foreign culture perks is some powerful stuff. Smaller countries take these things so much more seriously than others may let on. In the United States, some people might actually take their status for granted. They might...actually want to get paid for doing this.
The 1992 Dream Team was better as far not complaining, that's for sure.
Current Miami Heat player Ray Allen was rather vocal about this a couple of months ago, stating that since NBA players are practically walking-talking-advertisements, they should get their own sort of "royalties" for taking part in the Olympic Games. Dwayne Wade agreed with this, saying it would be "fitting for the players to be compensated" since they only have two weeks of rest until the NBA rush starts. Kobe Bryant wouldn't mind this, but he'd still play anyway.
Per NBCSports' Kurt Helin:
"[Allen states:] Everybody says, 'Play for your country.' But (NBA players are) commodities, your businesses. You think about it, you do camps in the summer, you have various opportunities to make money. When you go overseas and play basketball, you lose those opportunities, what you may make… If I'm an accountant and I get outsourced by my firm, I'm going to make some money somewhere else."
Helin then responds by saying:
"I think Allen misses the mark here because there is a huge financial incentive for the top guys — it's about international brands and shoe sales. Allen is spot on with his premise that NBA players are commodities in the eyes of teams, but they are also their own brand if a guy is a smart businessman."
Somebody gets it.
I remember watching women's diving a few nights ago and Pandelela Rinong, a young woman from Malaysia, became the first female to win a medal (a bronze) at the Games. She said during her post-event interview on NBC that she was "proud to be a Malaysian." Isn't that enough to feel that happiness inside for her? Even during the preliminaries for track and field, the announcers were saying that a lot of the competitors (most were from super tiny Pacific islands and small African countries) were just happy that they made it to the Olympic Games to represent their country. And then...we have some guys that think they're too big for their own britches and think that representing their country isn't enough. It's as if there are some people out there in the U.S. that don't appreciate what the Olympic Games are all about. They think it's another opportunity for exposure and a bonus. Sure, you will hear other American athletes saying how proud they are of their heritage and say that the United States is the greatest country in the world. You don't really hear the verbal diarrhea like Allen's statement coming out of their mouths like that. It's ridiculous, in my opinion. Whatever happened to patriotism?
When you are an Olympic athlete, you share the same stage with the greatest athletes from other countries. Some of these countries are so poor that they had to work something out with the IOC and find a way to get their athletes to London this year. Heck, some people were actually "independents" that couldn't get endorsements from their host country or their country is in such peril that they "seceded" in a sense in order to compete. There are so many unfortunate people out there and their Olympic-caliber talent is all they may have. These people might not even get paid at all; some medalists actually owe money (hello, Missy Franklin!) because their medals are worth something and they may have to pay taxes on the thing.
[Thinking about that, I wonder how much Michael Phelps has had to pay over the past eight years...]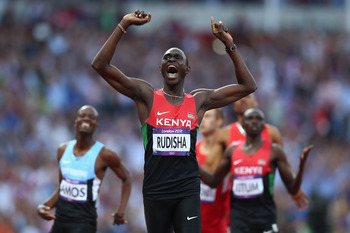 (Credit to Bleacher Report)
Just look at Kenya's David Rudisha. Do you think he's thinking about his world record run or why he's not getting a fat sum from this?
As far as money goes,
WHAT MONEY?
You might not get the profit you
think you deserve
, but aren't you getting your foot in the door for bigger bonuses to come? Speaking about getting money outright from the Olympics itself couldn't be any more boneheaded. I was always taught to "think outside the box," and it sounds like there are some athletes out there that have agents that think for them and those athletes couldn't even negotiate their way out of a box to begin with.
Just as Kurt Helin mentions in his story, you're a professional athlete playing in a professional sports league. That most likely means you know how the business works; it's absolutely difficult to play in a league and not know what's going on financially around the league or what have you. I'm pretty sure you know how to be a good businessman and make the most of what you have. There's no reason to go knocking on the IOC's door asking where your paycheck is. You have the exposure now--get the endorsement deals. That's going to give you the money you want.
It's an honor to play in the Olympics. It's not an entitlement, nor is it a multi-million dollar deal, and it isn't something that should be treated like a standard sports practice. An international competition like the Olympics is so much grander than that. Coming from a large country like the United States, I guess that could be difficult to fathom since we may have a better set-up for most sporting events and every sports final is a big deal in the country. But getting the recognition from smaller countries on a big stage like this should be enough. In the Olympic Games, t's about the love and passion, not the money. This year's Olympic motto was "Inspire a Generation." You're in no way "inspiring" if you're sounding whiny because you're not making money like you think you should. Again, this is an honor and not a choice here.
Do it for the country, not for the paycheck. You're proving to the world that you come from the greatest country of all and you're proud of where you came from.
Mr. Allen, if you want more money, go ask Spike Lee to make
He Got Game 2: The Big Time
.
--AZ
(Sources of today's tirade:
1
,
2
)